The Wealdstone FC Supporters Club's most consistent means of raising funds for, and the profile of, Wealdstone has been through its club shop
During the 1970's and 1980's at Lower Mead Stadium, the Wealdstone FC. Club Shop, run by Toby Jackson was the envy of most non-league clubs in the country.
A fire destroyed a previous club shop when we ground shared with Edgware FC    Problems with vandalism when we were based at Northwood FC. meant the club shop there lasted for only three days!
Therefore the club missed out on this vital resource.
Following a Supporters Club AGM in November 2008, two supporters came forward, Adam Edwards and Mark Randall offering their services to establish a club shop and approval was given to begin again.   A site at "The Vale" was secured and within a matter of weeks, transformed into a new, fully-stocked club shop.
The "Megastore" opened for business in December 2008 and since then has gone from strength to strength raising valuable income for the Supporters Club by selling a wide variety of souvenirs.   In August 2012, the Wealdstone FC Megastore moved to a new larger location within the ground situated on the half-way line behind the players dugouts, allowing much more merchandise to be displayed. It is open on match days both before and after the match and during the half-time interval.
From August 2010, our stock has been available 24/7 from the new ONLINE Megastore, raising vital funds for the club and ensuring you "Wear Your Colours".
Now, we believe our shop is not only matching the glory days of its past, but going global by offering a wide range of merchandise, souvenirs, replica kits and football programmes across the internet!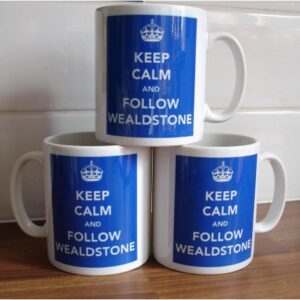 Below is an extract detailing the 'build process' at Grosvenor Vale of the Megastore